ER2 Earns 2023 Great Place to Work Certification –
4th Year in a Row!
Great place
to work
certified –
4th year in
a row!
ER2 Earns 2023 Great Place To Work Certification™ 4 Years in a Row!
They say it's not as hard to get to the top as it is to stay there, so ER2 is especially proud to be Certified™ by Great Place To Work® for the 4th year in a row! The prestigious award is based entirely on what our current team members say about their experience working here at ER2. This year, more than 80 percent of employees responded to say it's a great place to work. Based on historic trends, that's more than 25 percent over the response from the average U.S. company.
Far beyond a nice saying, Great Place To Work® is the global authority on workplace culture, employee experience, and the leadership behaviors proven to deliver market-leading revenue, employee retention and increased innovation.  
In other words, we know we are pretty great, but we also want to measure that by an outside, objective source. Great Place To Work® Certification™ is the most definitive "employer-of-choice" recognition that companies aspire to achieve. It is the only recognition based entirely on what our team members report about their workplace experience – specifically, how consistently they experience a high-trust workplace. 
Some notable statistics for 2023:
93 percent of employees who responded said ER2 was a Great Place to Work when taking everything into account, which is higher than the average

Among the highest scores reflected our team members' pride in how we contributed to our community (96 percent)

ER2 also scored nearly perfect (99 percent) in providing a fair workplace

Camaraderie also was noted benefit, which likely lended team members to score special events highly, and also call ER2 a fun place to work (98 percent)

Our commitment to culture was also reflected in team members feeling that people who are hired fit well (97 percent)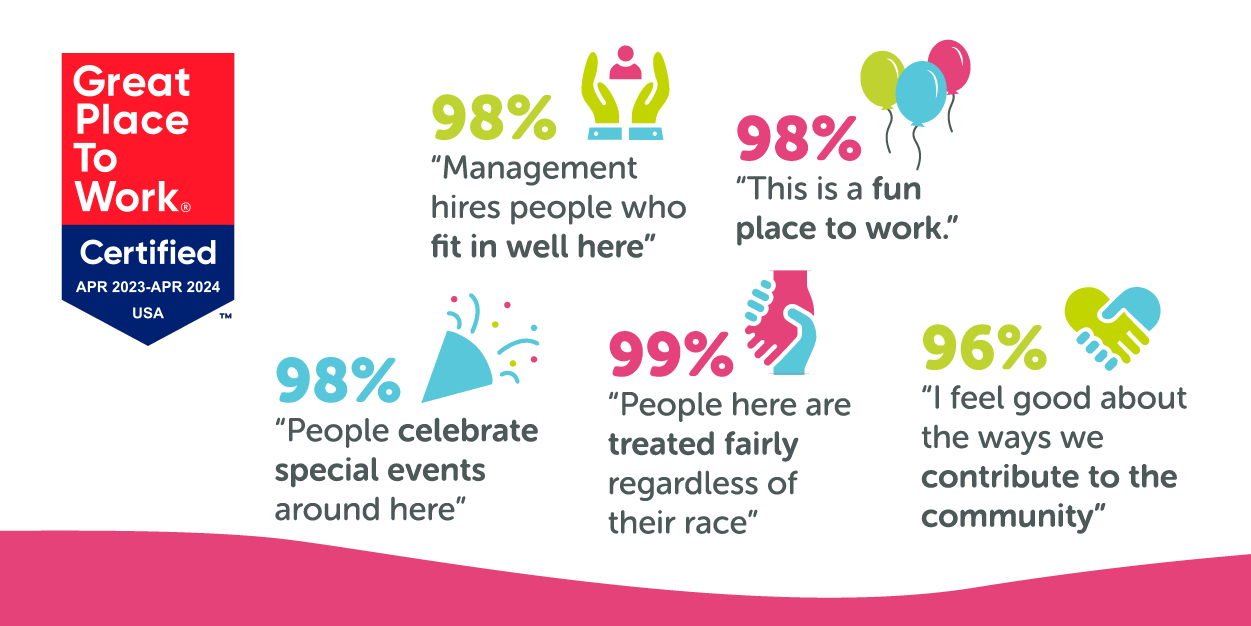 "Our people are everything and I firmly believe in putting them first," explained ER2 CEO Chris Ko. "It's our mission to create a company that provides individuals opportunities to continuously improve, feel safe in their workplace, express their unique perspectives, and have fun serving our clients well. ER2 being certified for not one, but four years in a row as a Great Place To Workby our Team Members, is both incredibly humbling and exciting. We have an incredible future ahead!"
ER2 also uses these reports to identify areas of opportunity, and it's just as important as the accolades. As a company that cites continuous improvement as a core value, we know while we can celebrate our achievements, we can never rest on our laurels.
"Great Place To Work Certification is a highly coveted achievement that requires consistent and intentional dedication to the overall employee experience," says Sarah Lewis-Kulin, the Vice President of Global Recognition at Great Place To Work. She emphasizes that Certification is the sole official recognition earned by the real-time feedback of employees regarding their company culture. "By successfully earning this recognition, it is evident that ER2 stands out as one of the top companies to work for, providing a great workplace environment for its employees."
According to Great Place To Work research, job seekers are 4.5 times more likely to find a great boss at a Certified great workplace. Additionally, employees at Certified workplaces are 93 percent more likely to look forward to coming to work, and are twice as likely to be paid fairly, earn a fair share of the company's profits and have a fair chance at promotion.
So if you're reading this, and wondering how you can get a piece of this, and grow your career at a company that puts its people first, visit our careers page.