Corporate Excellence, Community Impact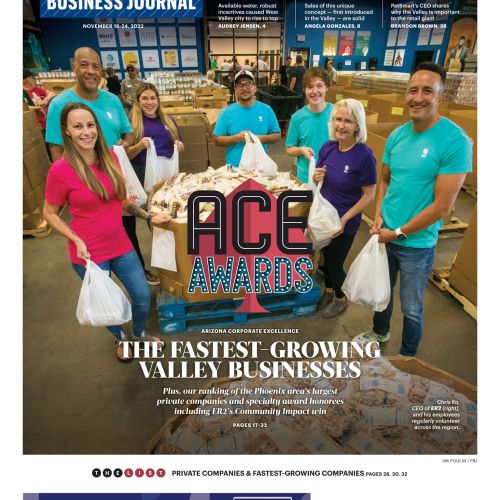 The annual awards program sponsored by Phoenix Business Journal highlights Arizona's biggest and best privately held companies.
ER2 has been recognized by the Phoenix Business Journal through its Arizona Corporate Excellence (ACE) program as one of the top 50 businesses in Arizona.
The largest private companies in Arizona generate revenues of over $15 billion per year, according to Phoenix Business Journal. They employ over 40,000 employees in the State of Arizona and over 56,000 worldwide. ER2 is proud to be among these companies, which are very important to the economy of Arizona and to the families of their employees.
In a ceremony held on Thursday, November 17, ER2 was ranked 44 among the top 50 companies in the state. 
However, it was even more meaningful to receive ACE's Community Impact Award, which honors a company with whom they feel has made a significant positive impact in the community.  This award underscores the core values of servanthood and humility that ER2 seeks to maintain and instill in every team member who works here.
Donating hundreds of devices in 2021, and nearly 1,500 since 2019 to help bridge the technology gap, especially among the most vulnerable in our communities, ER2 has also created an impact program for all of its team members to underscore the importance of serving. 
The Impact program was formally launched in 2021 and yielded more than 2,700 hours of service among our team members, far exceeding its inaugural year's goal. In 2022, that record is poised to be broken, even as we have two months remaining until the end of the year to bring that total to well beyond 5,000 hours.
Impact events have also benefited (just to name a few):
United Food Bank

House of Refuge

Televerde Foundation

ASA Now/Jacob's Mission

Arizona Helping Hands

Arizona Department of Child Services
"It is an incredible honor for our team members to be recognized for how they have served and continue to serve so sacrificially," said CEO Chris Ko. "But the most beautiful blessing is to hear the stories of how the team members' lives and perspective has been transformed by the interactions they have had while serving." 
In addition to its community impact program, ER2 has also facilitated donations on behalf of its clients, by using the value of the equipment being recycled to provide technology to the under-resourced. Since its inception in 2019, this program has provided an estimated value of $530,000 in technology and monetary donations to more than 100 nonprofit organizations nationwide and across the globe. 
This commitment to our core values drives everything we do, and everyone we hire; it's something that partners and customers notice as they engage with us. We understand that what we do in providing ITAD and ITAM services to businesses and schools doesn't necessarily make us unique. It's our relentless pursuit of excellence that serves our customers with distinction, and the heart we have to bless others that serves our communities with compassion.