Best place
to work
AZ 2021
Best place
to work
AZ 2021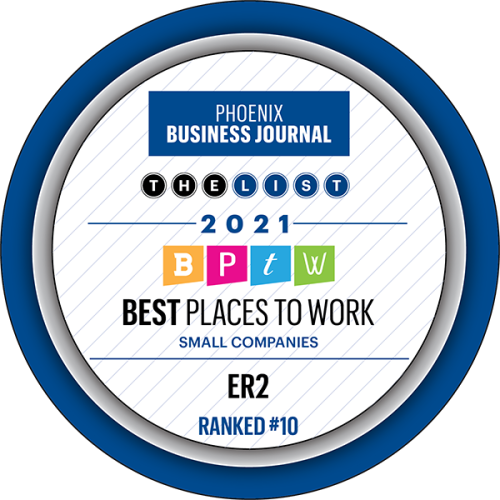 Staying on Top: ER2 Recognized Among the10 Ten Best Places to Work in Business Journal Rankings 
A repeat performance on the Best Places to Work survey reflects a culture that values and invests in employees
We're known as a technology solutions company that provides new and refurbished gear to schools and businesses, and partners with Fortune 1000 companies to manage their IT assets. However, it's what we put into our team members that has the real impact. So, we are thrilled to  yet again make the Phoenix Business Journal's Best Places to Work 2021 list, because it's a nomination made by our team members. 
Based on scoring from team members, ER2 placed among the top ten of all contenders in the Small Business Category. This is also the second year in a row we have placed in the top ten. The announcement was made at the Phoenix Business Journal's event earlier in December. The continued success also reflects the commitment to our people that ER2 has cultivated over the years.
"We believe that each person has been created uniquely and has incredible gifts and it is our job to cultivate and help them grow so they can become all they were created to be," said CEO Chris Ko. For example. we've implemented personal development metrics and opportunities as a part of our plan just as much as skills training to allow every individual to shine. 
One of the 194 comments submitted to the survey echoed this sentiment.
"Regardless of how large the company is growing, our core values are always there and no matter what, you know that everyone from the bottom to the very top are here as support in any aspect if you needed a shoulder for support, professionally and personally. Everyone treats everyone as family and cares for them more than just a co-worker. It is amazing!" 
Just a quick snapshot of our results
ER2 scored nearly 20% higher than other small businesses in the region for benefits

98% of employees who responded to the survey said they were highly or moderately engaged; this reflects a culture that looks to invest in its team members, resulting in higher retention rates

Employees also gave high marks (79% of men/80% women) for professional development opportunities, a key marker in attracting and retaining talent in a competitive market 
We're encouraged by those numbers, but as a company that values continuous improvement, we use these to focus on how we can do better, everyday. While we appreciate that our efforts to help all of our team members thrive is noticed and rewarded in this way, we look just as carefully on where improvements can be made. 
Ultimately, we'd like to take the top spot in our category – of course, who wouldn't? – but more so because we understand that it's our human capital that is our greatest asset.