ER2 Earns Great
Place to Work
Certification™
for Second Year
ER2 Earns Great
Place to Work
Certification™
for Second Year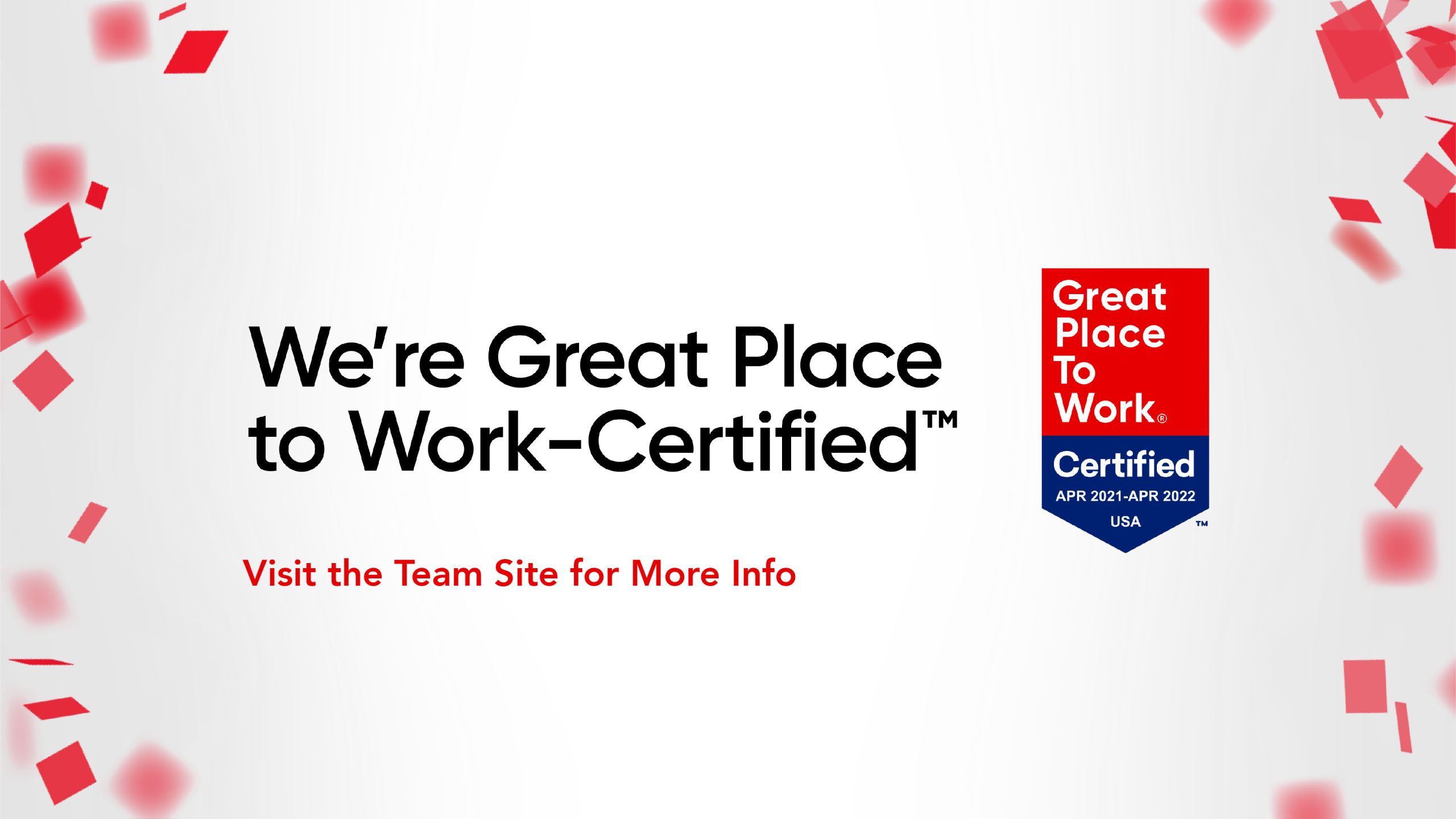 Building on our culture of innovation, trust and leadership, we're proud to retain our place among nationally-recognized businesses for our commitment to our team members.
Our customers often comment whenever they tour our facilities, or encounter our team members who provide services to them, that there is a notable, positive difference from other companies. To put it plainly, when employees love what they do and where they work, it's impossible to hide it, and everyone benefits from it.
So, it wasn't a complete surprise when ER2 was again certified as a Great Place to Work®, initially earning the award last year. Our culture of values, innovation and trust that our leaders have fostered places ER2, and our sister company Revive IT, as a highly-desirable employer.
While the designation sounds fun, it's an achievement that reflects a lot of hard work.
"Great Place to Work Certification™ isn't something that comes easily – it takes ongoing dedication to the employee experience," said Sarah Lewis-Kulin, Vice President of Global Recognition at Great Place to Work. "It's the only official recognition determined by employees' real-time reports of their company culture. Earning this designation means that ER2 is one of the best companies to work for in the country."
This year, 91 percent of the ER2's 104 employees responded that it's a great place to work, which was 32 points higher than the national average. We also scored impressively in many other categories, as shown here:
In addition, ER2 exhibited continued revenue growth after an exceptional 2020, which is also a metric in garnering Great Place to WorkR status. Low turnover rates, and a culture that fosters communication and involves employees in the company's success are also just a few of the hallmarks in common with other Great Place to Work® businesses. In a market where competition for qualified candidates can be fierce, this certification can attract the best in the industry, and ensure continued growth with quality employees.
"Though we had a successful year in 2020, it was still incredibly tough for all," said Gina Lidster, Chief People Officer for ER2. "We're proud to have maintained a positive culture for our team members through the end of that year and into a new one!"
CEO Chris Ko agreed, adding, "In 2020, during uncertain and scary times, our team members showed their resilience and served each other and the community in amazing ways. When times are hardest, you see a team's true character and we couldn't be more proud of how bright ours shined."