ER2 Returns to
Prestigious Inc.
5000 list
ER2 Returns to Prestigious Inc. 5000 list
For the second consecutive year, ER2 appears on the Inc. 5000 list, improving on our ranking over last year, and posting a 3-year revenue growth of 147 percent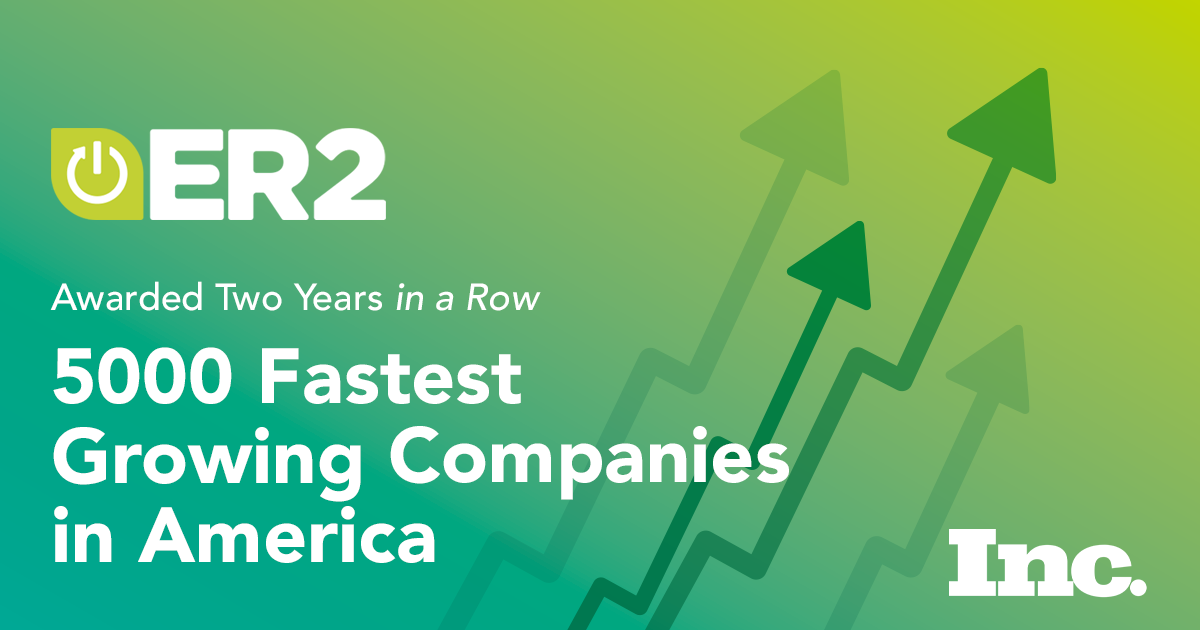 No doubt, 2020 was a challenging year for businesses of all sizes. Last year saw a record number of businesses close, many permanently due to the pandemic. As a growing business, that is heartbreaking because when one falls, we all feel it. So it was humbling that during the same time, ER2 experienced tremendous growth, earning us a spot on Inc. Magazine's 5000 – 2021 list of fastest-growing private companies in the nation for a second year in a row.
At first, being among 5,000 other businesses may not sound distinctive, but when you consider that there are about 32.5 million businesses in the US, that places us in the top 0.015 percent of companies. While qualifications also included being established by the first quarter of 2017, and posting revenues of $2 million or more, that's still pretty rarified air, and we are humbled and grateful to return to this group of amazing businesses.
So, if you like stats, here are a few that jumped out at us, and a few more that reflect such growth:
ER2 saw a three-year revenue growth (2017-2020) of 147 percent, an increase of 32 percent from last year's growth

The ranking of 2740 represents an impressive climb over last year's ranking of 3375, or a rise of 32 percent

Within its industry (IT Management), ER2 ranks 101 among 264 companies, and well exceeds its median revenue growth of 108 percent

ER2's growth has now reached 7 locations in 5 states, with continued growth expected to reach 25 locations

We continue to partner with our customers to donate thousands of devices to nonprofit organizations to further their missions as well

We are experiencing this growth, not as a start-up, but as a seasoned company of 11 years
"We were completely blown away by the way our clients supported us and how we found ways to serve them. Whether it was supporting their patients, students, or remote workers, they were facing incredible challenges and we were grateful that our team rallied to come up with creative, timely solutions," said CEO Chris Ko.
"The 2021 Inc. 5000 list feels like one of the most important rosters of companies ever compiled," said Scott Omelianuk, editor-in-chief of Inc. "Building one of the fastest-growing companies in America in any year is a remarkable achievement. Building one in the crisis we've lived through is just plain amazing. This kind of accomplishment comes with hard work, smart pivots, great leadership, and the help of a whole lot of people."
ER2 has always provided new computer hardware and installation services to big companies, while refurbishing the replaced technology to help schools to continue reaching students via remote learning. This was particularly impactful in 2020. We have also built strong partnerships with healthcare systems to help dispose of their technology assets securely, while saving them millions of dollars through no or low-cost IT asset disposal services.
So, the COVID-19 pandemic presented the opportunity for ER2 to expand its service footprint to these vital sectors, fulfilling the company's mission to live its values of servanthood, continuous improvement, and acting in humility. In other words, leading up to the unprecedented circumstances of COVID-19, ER2 had already been building and perfecting a process of full technology lifecycle services.
The hard work and tenacious attention to detail has apparently paid off, and we couldn't be more humbled and grateful for these results.