Providing
Needed Tech
Amid COVID-19
Providing
Needed Tech
Amid COVID-19
As our core values of servanthood and continuous improvement have laid the foundation, ER2 is in a unique position to serve communities across the country during the unprecedented COVID-19 outbreak. As stay-at-home orders require companies to transition their employees to work remotely, many find they don't have the equipment needed to stay connected and maintain efficient production. Schools also suddenly need to ensure their students can stay connected with their teachers to continue learning from home.
ER2 and its sister company, Revive IT, have already established country-wide partnerships with school districts, businesses, and health care systems to provide technology solutions as a part of its business plan.The current crisis seems to be what our company has been preparing for, and demand has been high. We are therefore ready to serve!
"It is a huge blessing and honor to be able to provide technology to people around the world that enables them to continue to be educated, provide for their families, stay connected, and keep our economies going. We have some of the most amazing people working extremely hard to serve our clients, showing how much we care and are cheering them on during this unprecedented time," said CEO Chris Ko.
Currently, ER2/Revive It has been assisting its partners with
Devices like tablets to provide in-hospital patients with a crucial link to talk with family members

Accessing needed technology in schools where much of their students are low-income and may not otherwise have the technology at home to stay connected with education

Creating "work-from-home" solutions like multiple monitor stands, docking stations and other devices to allow people to remain employed and productive for their companies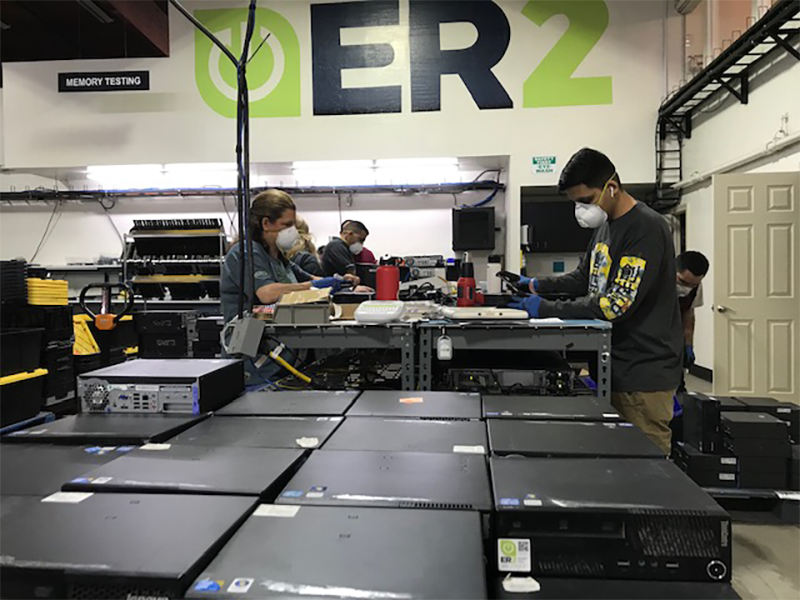 Internally, the company has also taken extensive measures to protect employees and ensure the recommended social distancing standards, including the availability of respirator masks. Daily cleaning procedures have also been enhanced to keep workstations disinfected at the beginning and end of every day.
"We're extremely grateful to be able to help others, always, but in this particular situation, it's really become our mission made visible in ways we never imagined," said Ko.
If you are a school district in need of devices, a business that wants to assist its employees in staying productive and keeping your (virtual) doors open, or a healthcare system that finds traditional avenues to obtain tech devices suddenly unavailable, please contact us!