Fostering
A Brighter
Future
Fostering
A Brighter
Future
When it comes to partnering with local nonprofits to assist others through technology, we're as excited about their story as we are to help them reach their goals. ASA Now, a non-profit organization that advocates for, supports, and assists children who are currently in or have been adopted out of foster care in Arizona was just such a story. Their appeal for computers to assist foster kids aging out reached far beyond those young adults — it really was a way to pave a successful future.
Anika Robinson, co-founder along with fellow foster moms Susan Woodruff and Angela Teachout, explained that the computers would assist current foster children with homework assistance, online job applications, applying for insurance, and a host of other life skills training opportunities as they emerge from foster care into independent living.
Laptops would also help ASU students input notes after assessments and help bridge the gap from current, outdated systems that staff was working within.
ASA Now sees about 50 students/hour for tutoring sessions as well, and the technology will help ASA Now achieve their goal of providing support to families and professionals by restoring hope and empowering them to better serve these children in need.
The new Community Center opened in Spring 2019 and ER2 was proud to outfit it with the tech that would help them succeed for the families they serve. A contribution of a workstation/monitor/mouse/keyboard combo for their admin and training rooms along with 4 Dell Optiplex 990 student desktops to complete the need in the training room was made. In addition, seven workstation/monitor/mouse/keyboard combos to meet the needs of admin staff, along with a TV/media device that could be used for presentations.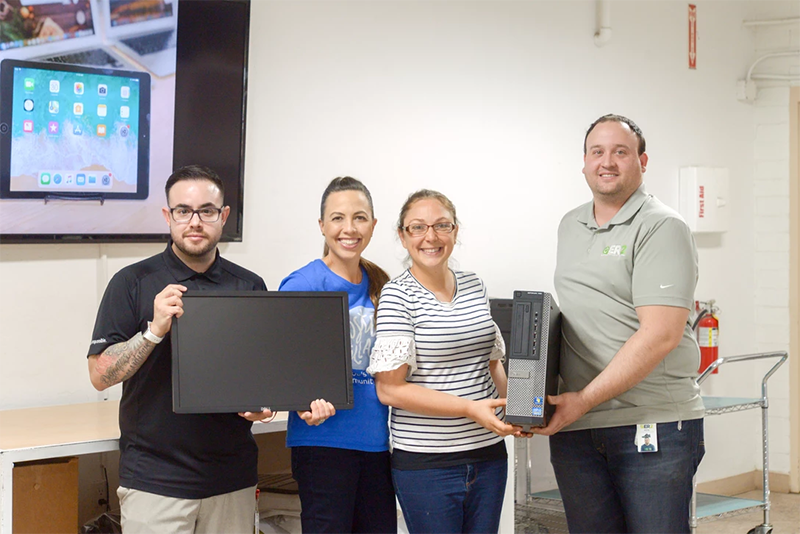 Anika and Angela were excited to pick up the gear and our Operations Manager Ken Thompson and Retail Store Manager Gary Romero were as eager to present it.
"It's humbling to know that each of the units will be a tool for the kids to search for employment, create their resumes and create their futures. I'm amazed at the impact these tools can have, and it's just an honor to be a part of it," Ken said.