Heading to
Tech Helps
Improve
Behavioral,
Mental Health

Heading to
Tech Helps
Improve
Behavioral,
Mental Health
While we're a tech company, we are always amazed at the positive impact that its applications can bring to our communities. Combined with creativity and innovation, technology is opening doors for people dealing with all facets of struggle.
Our recent donation of laptops to desktops to Hope Lives was such an example. Far beyond teaching its beneficiaries basic skills related to technology, the devices help deliver a pathway to lead them toward behavioral and mental wellbeing. The organization is a peer-run community nonprofit that was established in 2010 to address the growing barriers to underserved populations. And that's exactly who we are here to serve.
Many of the recipients of Hope Lives' services are re-entering society from mental health facilities or incarceration, or have other disabilities, and specifically a program available called Heartmath is increasing their odds of success. Heartmath is a virtual interactive application that allows people to learn how to "self-regulate their emotions and behaviors to reduce stress, increase resilience, and unlock their natural intuitive guidance for making more effective choices."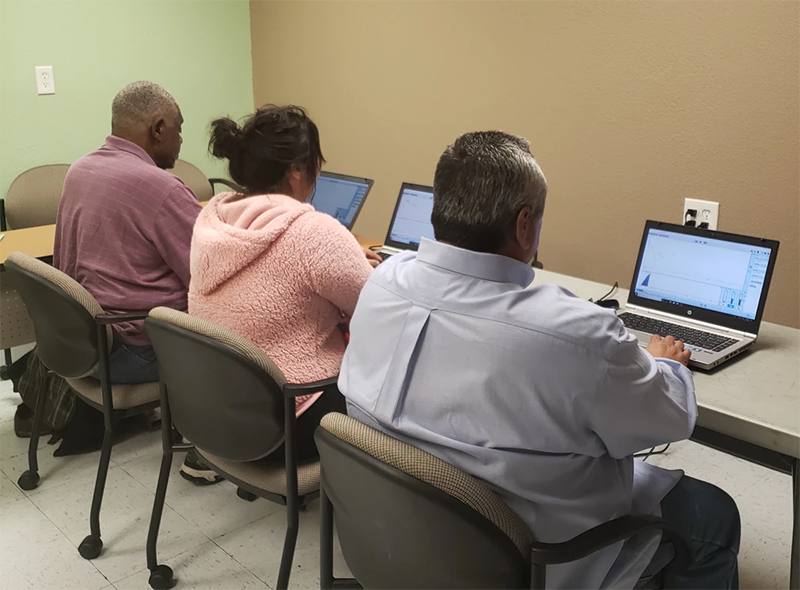 CEO Christopher Gonzalez explained that this tool is only helping to reduce recidivism, but it's offering participants an alternative to medication over time. Basically, a user will view a black and white image and using biofeedback and breathing techniques, they can control the picture to appear in full color. The experience helps them in other situations where they can remain in control of their emotions and not act out in a negative way.
The Heartmath screen shows users their progress in managing their own stress and emotions.
Gonzalez himself has battled anxiety and thoughts of suicide since his childhood, attempting to end his life at the age of 13, and "growing up thinking that I would never be able to work in a career. I thought it would run and rule my life. I never thought I would be where I am today, going to college, having a career and being the CEO of a nonprofit."
While the program was not in existence during his early struggles, he credits the support of his parents and his ability to harness control and develop skills, eventually becoming medication free 12 years ago. He said the peer structure of Hope Lives has meant that experiences like his can build trust among counselors and participants.
In addition to the Hearthmath program, Hope Lives provides support in these areas:
Community information and referral (Food, clothing and bill paying, Housing and shelter, Domestic violence and human trafficking, Health and dental, Disability services, Veteran and military services, Employment services, Substance use and disorders)

Forensic Peer Support

Supported Employment

Family Support

Survivor peer support groups

Education/pre-vocational (Moral Reconation Therapy, Heartmath, Thinking for a Change, G.E.D. prep, Interpersonal Communications, Independently Living Skills, Jewelry manufacturing, health and wellness)

Forensic Peer Support Specialist state certification

Life Support Specialist Training state certification

Peer Support Training state certification

Applied Suicide Intervention Skill Training (ASIST)

suicideTALK

safeTALK

Finger Printing

CPR/FA

Adverse Childhood Experience (ACE)

Cultural Competency: 101 Embracing Diversity

Cultural Competency: 200 LGBTQIA
Hope Lives sees technology as also bridging distances between those in need of care in rural areas with the peers and programs able to deliver it.
"People can't always come in for services, and technology helps us extend our reach statewide to reach out, especially with regard to suicide prevention services," Gonzalez explained. "We can help provide a whole foundation in their continuum of care