Common Goals:
Sponsoring a
Soccer Team Goes
Hand in Hand With
Our Vision
Common Goals:
Sponsoring a
Soccer Team Goes
Hand in Hand With
Our Vision
While the fascination is on the World Cup, our focus is on backing a team in our own backyard.
At first the similarities don't leap out at you: An electronics recycler and refurbisher on one hand, and a neighborhood soccer club on the. But when the South Memphis Soccer Club was first officially started in 2016 and asked for our help in sponsoring them, the more we got to know them, the more we saw a shared vision in changing a community.
SMSC was formed by a group of neighbors and friends living in the South Memphis neighborhood — just a short walk down the street from ER2 — who started playing soccer as a way to build community and to be together. Each year since it has grown to be so much more. Their goals, if you'll pardon the pun, mirror ours in reclaiming and finding value in what may otherwise be cast aside or determined to be invaluable.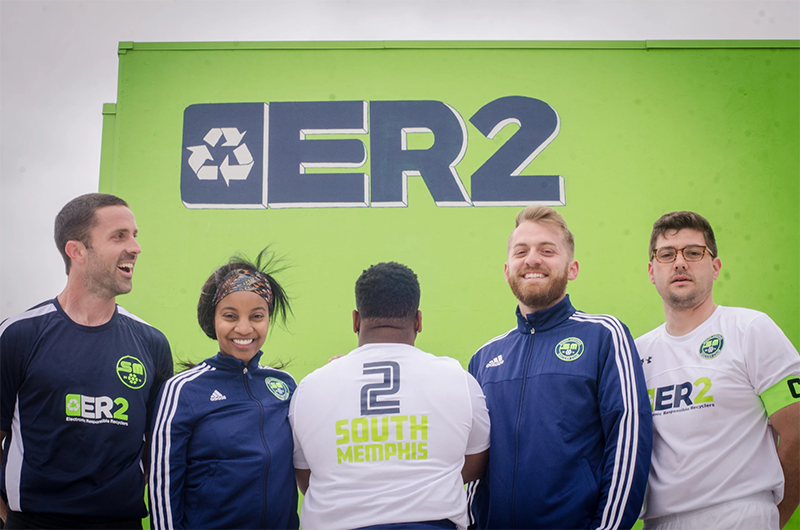 The primary purpose of the club is to be ambassadors for South Memphis to the rest of the city. South Memphis is oftentimes a neighborhood associated with crime, blight, and other urban ills, but it is also a neighborhood with pride and strength, as well as rich history and culture. The club seeks to draw attention to the good things happening in South Memphis and to invite people from other neighborhoods to experience that good.
Likewise, we saw the potential in an historic building in downtown Memphis, transforming the 100-year-old structure with 21st century technology and appointments like LED lighting and recycled materials. We understood the impact we could also have in employing members of the community, working through the Fast Track Job Training Assistance Program to support the initiatives of the business community as well as provide skilled jobs to uplift the area economy.
The soccer club hosts a pick-up soccer game every Sunday afternoon at the old Georgia Avenue Elementary school, in the heart of South Memphis. The goal is to get neighbors outside, together, doing something active, and to invite the rest of the city to meet the great people that live here and see the beautiful spaces that exist in this neighborhood. Another mission of the club is to transform underused or blighted areas into usable and safe play spaces. Georgia Ave Elementary was once the neighborhood's elementary school, but has since been abandoned for several years
As a LEAN company, ER2 is also committed to continuous improvement and eliminating waste. Among the things we identify as waste is unused employee genius. What SMSC has done is taken an area of unused potential and seen the improvements that could be made and then employed the creativity of the residents to help sustain its growth and impact neighboring communities.
The club transformed the vacant field behind the school into a soccer field by raising funds for goals and flags, reviving the once-empty space into an urban park.The club has also raised funds to transform another underused park in South Memphis setting up another soccer field in a different part of the neighborhood. SMSC competes periodically in local tournaments and stand-alone games called "friendlies" against other teams and neighborhoods. Recently, they took first place in the Brass Door Christmas Cup, a soccer tournament fundraiser hosted by a local pub.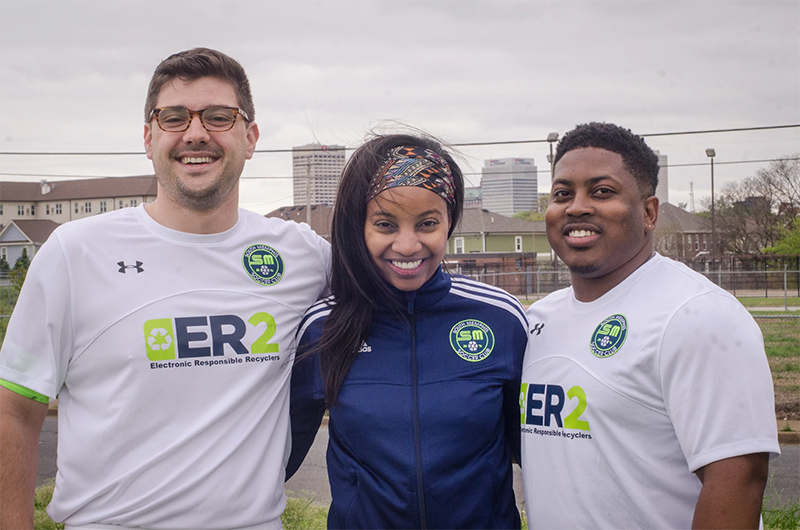 "We believe that communities are stronger when they interact together in positive ways, support and encourage each other, and are proud of where they live," said Mike Shaw, club president and Educational Programs Manager at Advance Memphis, which also serves to connect residents with opportunities to learn skills and become self-sufficient. ER2 is also proud to call Advance Memphis a partner in improving the lives of Memphis residents in these at-risk areas by providing them the dignity of work and learning skills for advancement in the workplace.
We couldn't agree more, as we share the club's mission of taking responsibility for our neighborhood and actively seeking to make it better, while proudly calling South Memphis home.