3 Benefits
of Corporate
Garden
3 Benefits
of Corporate
Garden
The temperatures are beginning to drop and for those of us at ER2 based out of our Arizona location, it's the perfect time to start our fall garden! We have had a lot of interest from our Team Members surrounding the garden and we believe it's our responsibility to demonstrate what we are protecting. Corporate gardens provide are great investments regardless the industry.
HighGrove.net put out a great article about the benefits of having a corporate garden that employees can be a part of.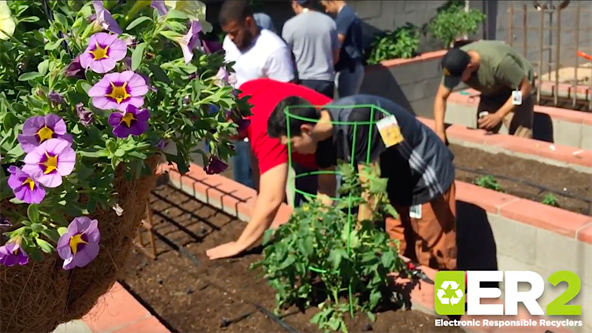 Improved Memory
A University of Michigan study published in 2008 found that the more time spent outside in close proximity to plants can help increase memory retention by up to 20 percent. Studies have also shown that time spent in and around plants can increase an employee's attention span and improve concentration as well as productivity.
Stress Reduction
Corporate gardens that encourage employees to prune, pluck or pick up a watering can play an important role in helping reduce an employee's stress. Activities related to gardening offer those of us under stress a distraction and a way to divert our attention to something stress free and good for the environment — like nurturing a plant.
Follow a hummingbird from blossom to blossom, or stop and actually smell the roses — sometimes the visual stimulation from a professionally designed commercial landscape is enough to reduce stress and anxiety, too.
Encourages On-Site Team Building
Many employers will budget for team-building activities, most of which take place off site. Give them a reason to save on transportation costs and create a connection with your property. Just think about the team-building that can be accomplished — and community goodwill — by having raised beds installed to grow vegetables for the needy.