University of
Phoenix Steps up to
Help Community
Center After
Burglary
University of
Phoenix Steps up to
Help Community
Center After
Burglary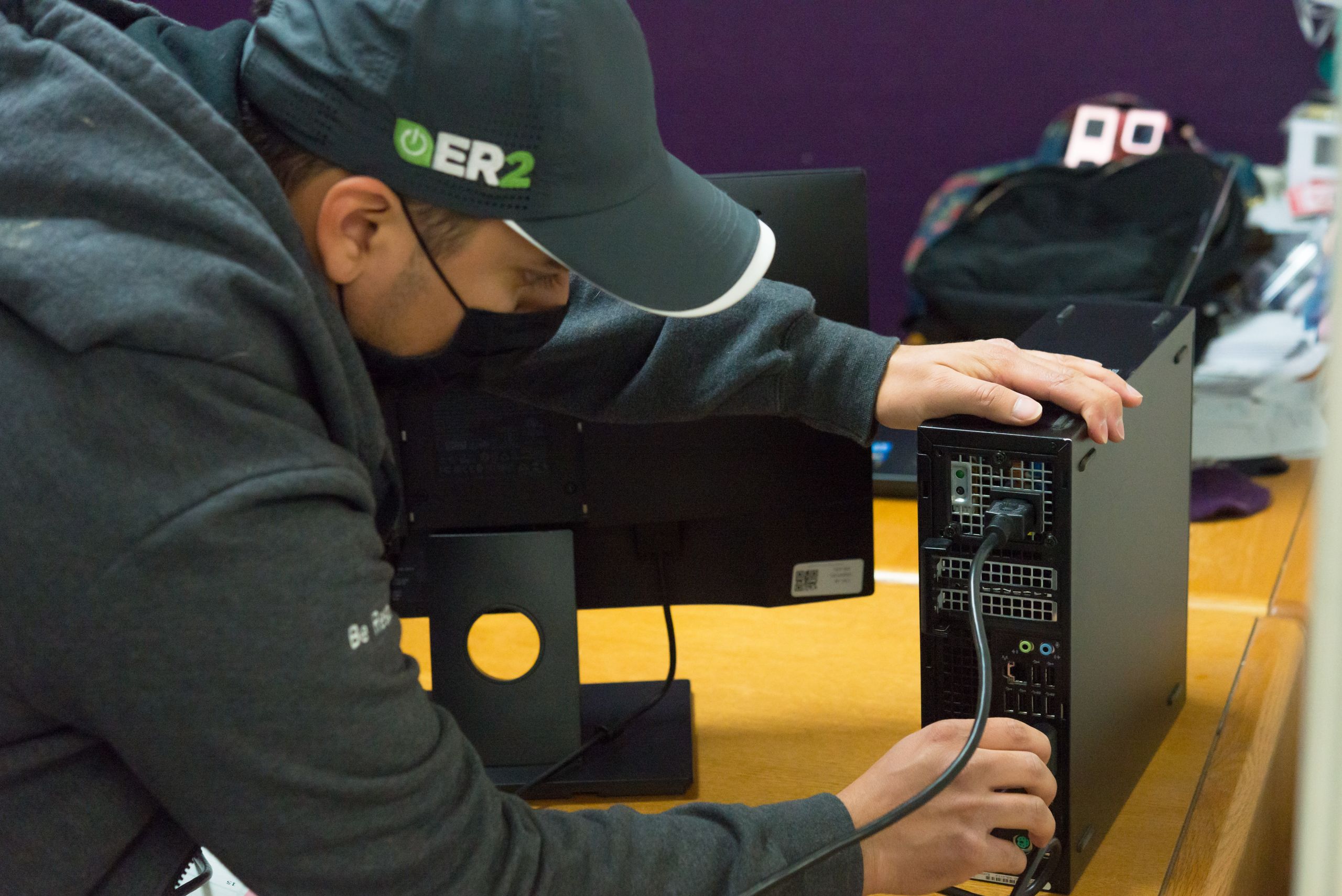 For a place that often serves as a helping hand for its community, it was an unfortunate role reversal recently when the Dysart Community Center (DCC) in El Mirage, AZ felt helpless and in need of support.
Over the weekend of March 6, the center was burglarized and thousands of dollars of computer and related equipment were stolen. Only a printer was left behind, likely because it was too heavy to move, according to local police.
Speaking to Arizona's Fox 10, Executive Director Annie Ansell said, "They just took everything, I arrived Monday morning for work and the glass was broken all over the sidewalk."
Ansell said the center had never been robbed in its 59 years, and the event left her "personally exhausted."
DCC offers youth and adult classes that teach English language instruction, citizenship, arts, life skills training and more. So the loss of this equipment literally meant these vital community resources were also lost. However, this was not the end of the story.
Jamie Lozano, an enrollment representative at University of Phoenix, saw the story and was saddened by it because of his own personal experiences at the Center.
"I received a call from Jamie Lozano, who was now employed by the University of Phoenix and heard about our robbery," Ansell recalled. "He immediately went to the Dean of Students and asked what the University could do to help the place that he credits with 'making him the person he is'"
"As a kid/teen I was fortunate to have spent many days at 4-H Community Center, now Dysart Community Center ," Lozano explained. This wonderful place has been helping low income youth and families with many services. These include ESL and GED classes, after and summer youth programs and much more."
"The University heard about the vandalization of the Dysart Center [from Lozano]," said Jamie Smith, chief information officer, University of Phoenix. "We immediately wanted to help, and we were grateful ER2 worked with us to make this donation possible. ER2 has been a great partner helping us distribute more than 200 refurbished computers to our students during the pandemic. The University is excited to assist the Dysart Center so they can continue their mission to support underserved communities."
The University partnered to provide the needed equipment including dozens of tablets, laptops and two desktops and accessories, about a week after the burglary. A donation of laptops, desktops and related equipment, and even two Ring security cameras for good measure was delivered to the center on Tuesday, March 16.
"They took the time to explain all the equipment, answer any questions and make sure they left us better than we were!" Ansell explained.
Joining two ER2 team members on that day was Lozano. "His dedication and determination to turn around the sadness of what happened to us meant he had to come and support the installation of new equipment."
"I personally cried after they left, thinking 'who does this, who goes to such huge efforts to help out a non-profit in the West Valley?'" she added."The realization that this miracle had been initiated by a former student, whose love for Dysart Community Center and the community of El Mirage made our burglary unbearable. For me, it was knowing that years of working with donors and writing grants was not wasted. We wanted our children and our adult learners to have a level playing field; to have the technology they need to work their way out of the cycle of poverty and to have such an amazing resolution just overwhelmed me."
"It was incredible to see how everyone came together with such urgency to replace what was taken from this community center," said Gina Lidster, who coordinates donation requests from partners at ER2. "Annie was an absolute pleasure to work with, and our partners at the University were so caring and helpful."
"To work tirelessly to help our community means that sometimes you don't realize how much you actually mean to the community," Ansell said. "This experience showed us the effect that Dysart Community Center has had on the members of the community, former students, donors, local businesses and religious organizations, all who are coming together to make the center safer than ever. When you combine that safety and security with technology we will be better than ever! The loss has led us to some wonderful relationships with former students from the University of Phoenix and new friends at ER2!"